In 2008, I made a point to present some of my favorite
images
by photographer Gregory Seman. Since then, my old friend's profile has grown higher while his work continues to delve deeper into the subtle quietude of landscapes we foolishly careen past so much of the time.
The places are beautiful, but more than place, Seman is capturing time and light in a way that the old masters would revere. He's represented by the
Halsted Gallery
in Bloomington Hills, Michigan, as well as in the cloud at
Greg Seman Photography
. At
Halsted
, his name appears alongside the greats: Ansel Adams, Henri Cartier Bresson, Wynn Bullock, Imogen Cunnigham, Yosuf Karsh, Michael Kenna, Andre Kertesz, Edward Steichen, Jerry Uelsmann, all those Westons, Minor White -- among well-renowned others and some whose work I still should seek out.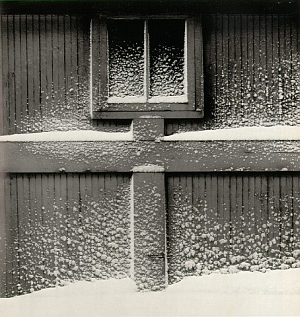 a favorite by
Minor White
(1908 - 1976)
Today, I'm so proud to have, by chance, found a Greg Seman image in the February 2011 Special Issue of
B + W
. I picked it up as I do on most book store stops, and as I flipped through the images within I thought, "Maybe I'll just glance at the table of contents just in case..." and, in fact, there it was on page 139:
Ice Flows, Frankfort Pier, 2009 :
Greg Seman
The 'Merit Award' shot, taken along the Lake Michigan shore, is emblematic of his compositions -- dynamic nature, refined vision, impeccably smooth tonalities, juxtaposed textures, pristine printing technique -- and the result is a sense of that spot at that moment, something that couldn't be recreated if a person gazed out from there, even an hour later. The skill and diligence it takes to craft such a vision is laudable and worthy of the respect that's begun flowing just like the ice pictured above.
Moonlit River, 2007
: Greg Seman