portrait of Jean Michel Basquiat by Warhol
Grafitti: unappreciated by the masses, produced by so-called "street urchins", miscreants and punks, disdained by the authorities, loathed by real estate agents. It still exists in this form. Just look around on the train, the warehouse, the stop sign; what's in that kid's backpack anyway, and why is he running? Maybe you should get a phone number, then give the kid some time to get famous.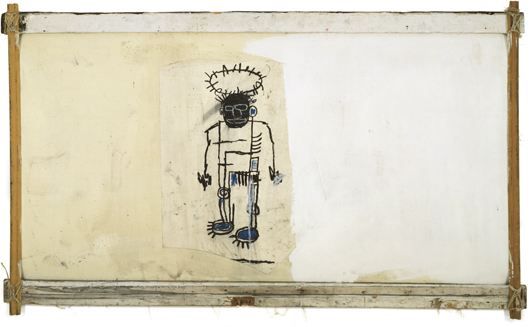 a song at $4, 562, 500 US
Today, Os Gemeos of Sao Paulo, Brasil, lead the new guard of street artists turned gallery darlings. Count the late Jean Michel Basquiat (a.k.a Samo) as one of the first to make the lucrative transition, however deadly that shift may have been for him.
Os Gemeos work on the street in Sao Paulo:
Dailyserving.com
Now
Banksy
, the subversive street artist, lampoons the entire affair in a new film called Exit Through The Gift Shop. The film details the travails and artwork
of one Thierry Guetta, a Frenchman of substantial eccentricity and at least some talent.
a more literal work by London-based Banksy


In the vein of many 'mockumentaries', it's hard to tell the real from the invented in Guetta's story (essentially the story of Guetta filming Banksy at work on the street). Is the film a document of Guetta's rise in the fine art circles or is it an intricate fabrication meant as hype, at once skewering the highbrow collectors and bandwagon trend-surfers? It's hardly a risky game for Guetta whose work is somewhat derivative anyway -- he rips off Warhol without shame and splashes paint around like Pollock. At the hands of Banksy, established cynic of the pavements, he's in for a catapult ride into the stratosphere of high-art superstardom, earned or not.
Guetta's "Le Bistro" signed by Mr. Brainwash, an alias:
ukstreetart.co.uk
In any case, Exit Through The Gift Shop is supposed to be a visual treat. So we'll see: who's famous, who gets famous, or who's a famous fake.
The trailer - banksyfilm.com
Guetta's purposely confusing site -
mrbrainwash.com
Here's Banksy! -
banksy.co.uk
outlines the film's conjured "controversy" -
markphilipvenema.worpress.com
a review -
slugmag.com
another Basquiat painting (just because) -
markphilipvenema.wordpress.com