Other Roy DeCarava links of interest:
NPR blog picture show -

nice overview of images
photo courtesy of www.dpgr.gr
DeCarava's subject matter was what he found around his home, the people in the streets or on buses and trains, and with his remarkably keen eye, he was able to capture certain fleeting but very telling moments that most of us would never even notice. A fine example of his astute observational skill comes in the form of this famous image of a subway platform, one in which race plays a central role but is emphasized by space rather than color.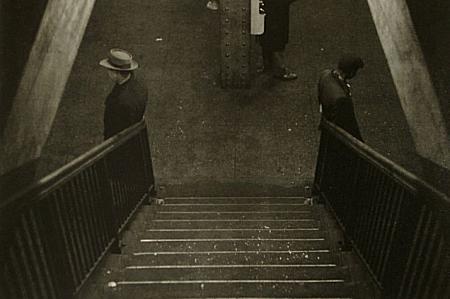 photo courtesy of web.ncf.ca

DeCarava's photographs of jazz legends are some of the finest in the genre. There were others who sidled up to the likes of Duke Ellington and Thelonius Monk, but Roy DeCarava's shots genuinely seem to evoke sound, smoke, heat and excitement, the kind found right there at the foot of the stage (Decarava's Coltrane photo courtesy of stage.ebonyjet.com).
Whether historically accurate or not, my inclination is to put DeCarava in an elite category with another lover of the street, the patriarch of spontaneity in photography, Cartier-Bresson. And Gordon Parks, that renaissance man of visual, sonic, and written language, is also of DeCarava's era and the two have complimentary styles which are worthy of comparison.