On the 13th anniversary of his death, it is with great reverence that I memorialize one of the most significant traditional musicians on modern record. He was the shining star of a six centuries old line of mystic Sufi devotees who, to this day, comunally worship Allah through ecstatic musical flights during marathon sessions. He was
Ustad Nusrat Fateh Ali Khan
(1948 -1997), a Qawwāli master, among the most gifted vocalists ever to sing the sacred poetry of Islam.
Cover of his 1st international release on the Real World label: Shahen-shah
photo courtesy of
Bluesmen's World (Music)
According to his biography, the young Nusrat Fateh Ali Khan (نصرت فتح على خاں) aimed to become a "doctor or an engineer" but soon after showed a fledgling interest in the family business of Qawwāli and began his subsequent tutelage under first his father, studying tabla, and then his uncles Mubarak Ali Khan and Ustad Salamat Ali Khan.
The young Nusrat Fateh Ali Khan's rise to greatness was rapid and steady, starting with his first performance, called chehlum in Urdu, forty days after his father's death. Decades of performance followed starting with a broadcast on Radio Pakistan in 1971 known as Jashn-e-Baharan, his first as the leader of his family's Qawwāli "party", featuring devotional singing "mainly in Urdu and Punjabi and occasionally in Persian, Brajbhasha and Hindi."
Nusrat Fateh Ali Khan's first performance outside Pakistan
Beyond traditional Qawwāli performances in the company of his "party", Nusrat Fateh Ali Khan gave his ancestral form of devotional music a brand new face through various successful
collaborations
with Western artists and other musical masters of the sub-continent.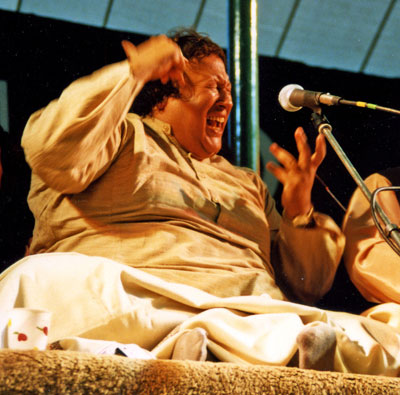 One of the most recognizable contributions for Western audiences is his duet with Eddie Vedder for the Dead Man Walking film soundtrack. Vedder's unmistakable, grimaced croon is paired with Nusrat Fateh Ali Khan's soaring, airy tones, the ethereal tambre of which carry the compostion to a spiritual plane. The two voices, the anthemic power of Pearl Jam's frontman and the veteran Qawwali's controlled rising and falling, together create a texture that seems chiseled of the same ancient stone. As it fades into the landscape of the film's narrative, the track titled "The Face of Love" transcends any moral implication and becomes itself an effortless message of multicultural harmony. It is but one example of Nursat Fateh Ali Khan's absolute commitment to promulgating Qawwali music as classically-honed forms joined modern media.
photo credit: Tim Hall of Redferns Music Picture Library via bbc.co.uk
Fortunately for us, a grand legacy of Qawwāli expertise has been left to enjoy. Nusrat Fateh Ali Khan's body of work is vast and much of it is still available for purchase. However, one need not search far for examples of this modern master's unequalled talent, and his unadulterated devotion to Allah as well as to his people's singular musical traditional. This is Qawwāli!
Nusrat Fateh Ali Khan introduces a "qual" called "Man Kunto Maula"
"The Spirit of Nusrat Fateh Ali Khan" - interview by Andy Carvin
Nusrat.org
- comprehensive tribute site
Live Performance - a "qual" titled "Ah Jaa Tenu Akhiyan Udeek Diyan" with Englsih subtitles
Nusrat.info
- many, many music samples, translated lyrics and more
"NFAK: How the World Discovered Qawwali"
- nice article with many links
Sufi Kalam - article about NFAK's biography by Dr. Pierre-alain Baud